www.baisalichalormi.com

Baisali Basu Sarkar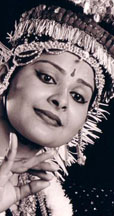 Baisali's parents, extremely fond of Indian Classical Dance wanted her to learn classical dances along with her academics. So her formal dance training began at 4 in four forms of classical dances. Feeling an internal urge to pursue Manipuri Dance, she specialized in Manipuri initially under Sri Khelendra Mukherjee, and then under Smt. Priti Patel and Sruti Banerjee since 1990. In Manipur, Baisali has learnt under Padmasree Ojha Th. Babu Singh, Ima Thoranisabi Devi, Sri Lokendrajit Singh and Smt. A. Lakshmi Devi. Baisali learnt Thang-ta (Martial Art of Manipur) under N. Rihini Chandra and P. Henry Meitei. After Completing Master Degree in English literature from Calcutta University Baisali dedicated herself to practice this art form in all possible ways.

Achievements:
Received "Junior Fellowship" for research work in Manipuri Dance in 2000 and "Scholarship to young workers in Different Cultural Fields" in 1994, both awarded by Ministry of Human Resource Development, Govt. of India. "A-Grade" artiste of Doordarshan Kendra, External Examiner of Rabindra Bharati University, empanelled with ICCR and EZCC.

Performance of Note:
Since 2002  Baisali has performed  as a solo  artiste and with her group  CHALORMI ,  extensively in India like :-
Nisha  Gandhi  Festival org. by  Govt. of  Kerala  
50 Years Celebration of PRASAR BHARATI (Doordarshan Kendra)  
National Programme of Dance for Doordarshan Kendra 
Konark  Dance and Music Festival
Swarna Nritya Pratibha org. by Sangeet Natak Akademi,New Delhi 
Rang Tarang by Sahitya Kala Parishad New Delhi 
India Habitat Centre's own  programme  in New Delhi
Summer Festival of India International Centre 
Horizon Series Programme of ICCR ,Bangalore 
Vedvyas Nrutya Utsav in Rourkela ,org. Bhanja Kala Kendra
Rojo Mahotsav org. by Paradwip Port Trust  
Kharavela National Dance Festival 
Khariar Mahotsav 
Devdasi National Dance Festival 
Nritya Bharati Festival in Hyderabad 
Kollam Fest in Kerala  
Doverlane  Music Conference ,Kolkata 
Uday Shankar Nrityotsav in Kolkata org. by Govt. of West Bengal  
Sriniketan Utsav org.  by Viswa  Bharati University 
Several Dance Programmes org. by EZCC.
Internationally, Baisali performed in Nepal and Bhutan for ICCR , Kuwait , Doha, Days of Indian Culture in Russia, International Dance Festival in Poland, Hannover Expo in Germany, Dance Festivals in Dhaka.



Till 2001: Performed extensively in India and abroad

Days of Indian Culture in Russia

International Dance Festival in Poland

Hanover Expo in Germany

Manipuri Dance in Dhaka

Independence Day Celebration in Nepal

Khajuraho Dance Festival

Kalidas Samaraho

Ladakh Festival by NZCC

Nahagi Jagoi in Manipur

Swarn Nritya Pratibha, Organised by Sageet Natak Akademy.

"VIRASAT" - organised by SPICMACAY in Chennai.


LECTURE - DEMONSTRATION :    Baisali  has conducted several  Lecture-Demonstrations  in different Academic Schools of India to grow awareness about Indian Classical Dances among youth and students org. by Ministry of Youth Affairs and Sports ,Govt. of India and IRCEN (India International Rural Cultural Centre ).

DETAIL  OF THE REPERTOIRE:-
Dance performance include both Traditional  and   Innovative items .
1. The Traditional items composed   by the gurus of Manipur are :-
(a)Dasavatar an invocation to Lord Vishnu (b) Excerpts from Rasleela (love-play of Sri Krishna, Radha and  Sakhis) (c)Astapadis of Kavi  Jaydev's  Geeta  Govinda ( the famous Vaishnav text)  (d)Gostho  Leela , stories based on life of young Krishna  (like stealing butter,  grazing cattles , killing of  Kaliya , the serpent demon ,Vastra Haran of the Gopis of Vrindavan  etc (e)Prabandh Nartan  (f) Mandila Nartan (dancers  play small cymbals  as they dance ) (g) Maibi-Jagoi  ,Leima  Jagoi, Khamba  Thoibi Jagoi from Lai-Haraoba(enactment of Creation)  (h) Thang-ta (sword and spear dance) (i) Pung Cholom  and Dhol Cholom (drum dance by male dancers).
(2)Innovative items composed by  Baisali are –
(a)PARAMA PRAKRITI PARAMATMA (a homage to the Omnipotent, Almighty  Lord Krishna) (b) RITU – CHITRA – Description of   6 seasons using slokas from Kavi Kalidas's  RITU SAMHAR a popular text of Indian literature  (c) AVISARE  CHALOYE RADHAR (the journey of Radha to meet her Lord)  (d) Sarat- o –Hemante Nari (e)Basanter Gaan –Songs of Spring by Rabindranath  Tagore  .

In these compositions ,a synthesis of different elements like Classical Manipuri Dance movements, traditional instruments of Manipur,  Rabindra Sangeet, Poetry of Rabindra Nath Tagore, slokas of Ritu Samhar by Kalidas are made, maintaining the  aesthetic quality of Classical Manipuri Dance  and making it entertaining to the present day audience.



click here for more