www.baisalichalormi.com

CHALORMI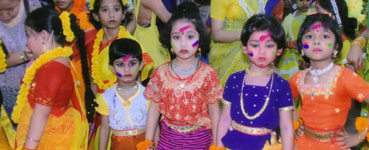 Baisali's institution CHALORMI in Kolkata is dedicated in imparting training and performing classical Manipuri Dance with the aim to preserve and propagate this unique dance form. Baisali teaches young students with utmost dedication and sincerity to pass on this rich dance to next generation as they are going through a cultural admixture presently. The able students are included in the performing team of CHALORMI and are encouraged to participate in various Classical Dance Competitions, performances and appear in Scolarship examinations, apart from evaluations conducted by CHALORMI.

Details of our Repertoire:

i) Traditional Items
Krishna's love - Play with Milkmaids.

Excerpts from Rasleela

Kavi Joy Dev's Geeta Govinda, the popular text on Indian literature.

Stories based on the life of Krishna like,
1) Nanichuri – young Krishna stealing butter while Mother Yasodha is away from home.
2) Kanduk Khel ie. ballgame
3) Kaliyo Daman ie.killing of the demon Kaliya
4) Gostholeela etc.

Pung-Cholom, an excerpt from Sankirtan, where male dancers play the drum and dance simultaneously.

Maibi Jagoi from Lai Haraoba

Thang-ta (sword and spear dance )

Dhol Dholok Cholom (Festival Dances of Manipur)

Prabandh Nartan

Mandila Nartan

Khubak Ishei, Lima Jagoi, Thougd Jagoi.
ii) Items composed and choreographed by me:
PARAMA PRAKRITI PARAMATMA

Ritu-Chitra – Description of 6 seasons using slokes from Kalidas's Ritu Sanhar, popular text of Indian Literature.

Basanter Gan – Song of Spring (celebrating joy, energy & new life).

Sarat-O-Hemonte Nari – (Different stages of a woman's life)

RADHAR ABHISAR- Composition on Poems of and Songs of Rabindranath Tagore, the Nobel Laureate.
PRODUCTION OF CHALORMI
NRITYAMALIKA- A garland of Manipuri Dance showcasing four aspects of Manipuri Dance, i.e. Thang-La, Lai-Haraoba, Sankirtan and Rasleela.

PARAMA PRAKRITI PARAMATMA. - more info

THE BEGINNING

Prayas: A 10 - day workshop on classical Manipuri Dance conducted by dance maestro Smt. Debjani Chaliha